Directors
Old Hemlock Foundation is governed by a three director board appointed by George Bird and Kay Evans in their wills. The board later added a fourth director. The directors are dedicated to protection of their home and property at Old Hemlock, and promoting their writing and philosophy of hunting upland birds. They also manage the assets to meet the charitable guidelines set forth in the foundation charter.   
Click Here to Jump to LeJay Graffious
Jeff Leach
Jeff Leach has served with the OH Foundation board as President since 2007, and brings his business degree and management skills to the organization.
Jeff grew up on eastern Long Island hunting wild quail on vacant farm lands in Suffolk County. He had been introduced to upland hunting by his uncle who mentored him through his early hunting years. He shot his first quail at 14 years old. "I can still see it", he says of his first shot. He hunted over a friend's setters until he bought his first English Setter, Jake, out of field trial stock.
While he did most of his shooting in a preserve on Long Island, he particularly enjoyed hunting a piece of land leased to a few fellows who were getting too old to go out. While on that land, he and his dogs had the wild quail to themselves. "To this day," he says, "that in itself was amazing." He and his wife Gabriella hunted wild quail there until 1996.
After college in Elkins, WV, Jeff worked as a fisherman harvesting clams in the Great South Bay on Long Island. Jeff moved to upstate New York in September 2001 after a career managing his family's boatyard, to live his dream of wild birds and shooting. Jeff and Gabby have both taken up sporting clays and now combine their two passions.
Jeff met George and Kay Evans in 1979 after making a phone call to George. Jeff and Gabby were married at Old Hemlock in 1986, with George and Kay as witnesses. Jeff considers George to be one of his true mentors, and George in turn asked that Jeff serve as a member of the board.
Roger Brown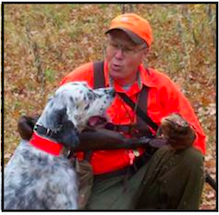 Roger grew up in Columbus, Ohio hunting over his father's beagles and a friend's English Setter. He earned a Bachelor of Science degrees in Natural Resources and Elementary Education, and a Masters Degree in Educational Administration from The Ohio State University. In the early 1970s, he moved to Monroe County, Ohio to live on a farm once owned by his great-grandfather, and enjoyed great grouse hunting just out his back door.  He taught elementary school for 35 years and retired in 2007.
Roger's first Old Hemlock Setter, Amber, was purchased from George and Kay Evans in 1973. That started his long relationship with George and Kay, and their line of dogs. He currently has three Old Hemlock Setters: True (a son of Manton out of Aspenglow Chevre'); Diva; and Charm. Roger and his wife, Anna, also have a Border Collie, Timber, and a Sharpei-Border Collie mix, Boots. Retirement brings travel and enjoyment of the upland life. Roger has served on the board of directors since 2010.
LeJay Graffious
LeJay Graffious brings his experience as an educator and school administrator to the OH Foundation. LeJay's formative years were in central Pennsylvania where he hunted small game and deer with his father and grandfather. He hunted over his dad's rabbit dogs and killed his first grouse when he was twelve. but only knew of hunting with setters from Pennsylvania Game News and other magazines until he met George Bird Evans in 1974.
LeJay attended college at Frostburg College in Maryland, and he and his wife, Helen Ann, moved to Preston County in 1972. He accepted a position teaching at Bruceton School and attended graduate school at WVU. While teaching, he became the caretaker of the 4H Camp which borders the Old Hemlock estate close to the virgin Hemlock stand. He met George and Kay in spring of 1974, and  sparked the beginning of a long friendship. Though LeJay had given up hunting at this point, he and George shared a deep appreciation for nature. They spent many hours hiking around Old Hemlock and the surrounding Appalachian Mountains, taking in the beautiful scenery and the abundance of flora and fauna.
LeJay was a frequent visitor at Old Hemlock for many years, and cherishes many memories from his time with George and Kay. The first OH setter LeJay met was Briar, and he fondly remembers how Briar chewed up one of his woolen caps. Kay repaired the damage one afternoon while everyone enjoyed tea together at Old Hemlock, and LeJay still treasures his old cap. George invited LeJay on training quail sessions with Quest, Belton and Manton. Their friendship steadily grew over the years and George presented him with a complete set of his upland hunting books. LeJay assisted George and Kay with their work in many ways. He photographed George for some magazine articles and for Men Who Shot, and even converted a closet into a sound studio to record the sound tracks for An Evening at Old Hemlock, Vol I and II, and for videos of Kay's edited 8 mm movies.
In addition to being a director of the Foundation, LeJay and Helen Ann were given life estate at Old Hemlock by George and Kay. He manages the house and property, and develops educational programs for the Old Hemlock Foundation. LeJay says, "I was privileged to be included in the lives of George and Kay. They have given this son of a coal miner a window on the world that I would not have had otherwise. I feel blessed to have met and become friends with so many folks in the Old Hemlock Family." LeJay has served from 2007 to the present.
LeJay and Helen Ann share the estate with Old Hemlock Black Willow (from Kauffman's OH Blackwater and Decoverly Double Down) and Old Hemlock Mountain Laurel (from OH Maybe Karma and Nudrap October Boy).
Hall Carter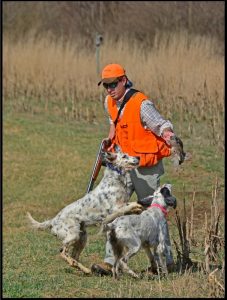 Hall Carter joined the board of directors in 2013. Hall has been bird hunting with his dad behind Old Hemlock setters for as long as he can remember. He was introduced to his parents' first Old Hemlock setter, a blue belton puppy named Burl, when Hall was eight weeks old and Burl was seven weeks old. Burl was the first of many Old Hemlock setters that have played an important role in Hall's life.
Hall is from Richmond, Virginia and now resides in Roanoke, Virginia. He is an attorney practicing in the areas of estate planning and administration, taxation, and business law. He earned his undergraduate and law degrees from the University of Virginia. He and his wife, Colleen, currently live with two setters: Old Hemlock Primrose and a Hytest setter named Roz. They spend as much time as possible in search of grouse, quail and woodcock.
Jeff Kauffman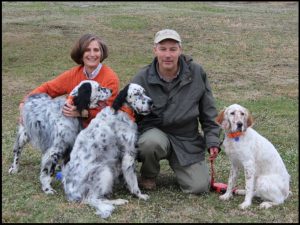 Jeff Kauffman served a Director and Trustee from 2007 to 2010