History
The development of the line of English setters known as Old Hemlock, took many years to hone. This line was the work of a man with an artist's eye and the knowledge gained through a lifetime of gunning over his and his family's English setters. The legacy of the man, George Bird Evans, still runs through the Old Hemlock setters of today, thanks to the dedication of a group of upland enthusiasts and owners of Old Hemlock setters.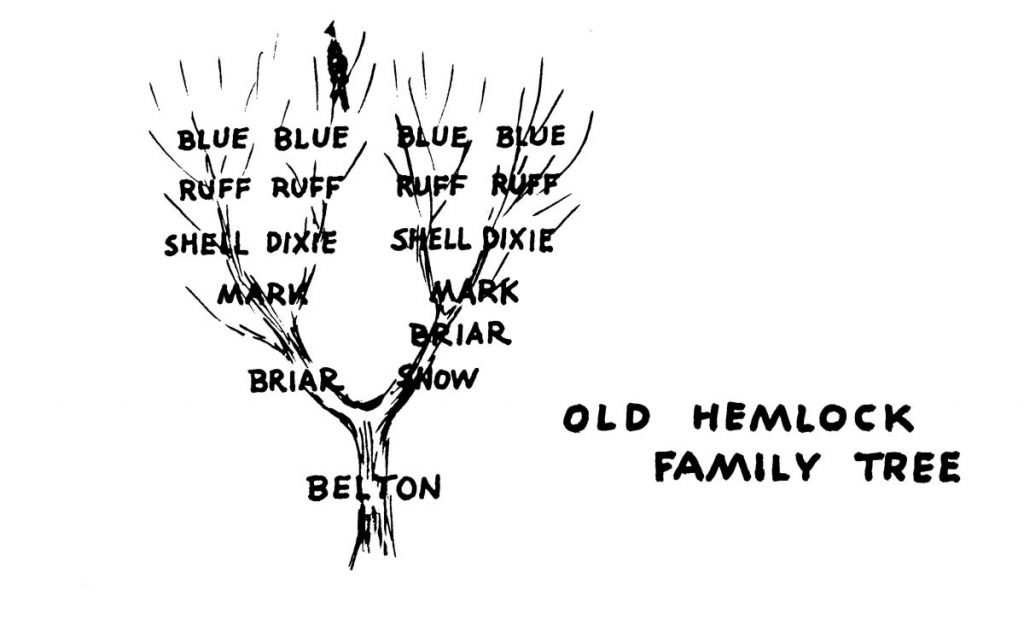 George Bird Evans lived a life that most only dream for; filled with art, music, the West Virginia Mountains, great setters and, above all, true love. Born on December 26th, 1906 in Uniontown, Pennsylvania, George was destined to enjoy the delights of Appalachia with a setter at his side.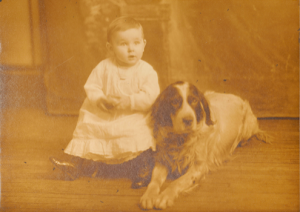 George's inherited his passion for the outdoors from his father, who hunted and had a love for fine English setters. Growing up, his father urged him to hunt and fish. George needed little encouragement, and would often spend the cool days of October hunting instead of attending school. As George matured, his love for the Appalachian Mountains, his setters and the upland birds he hunted grew stronger.
George met his partner, Kay Harris, while attending college in Pittsburgh. She shared his passion for the wilds of West Virginia and became his other true love – a love that would last their entire adult lives. They were married in 1931 and moved to New York to follow George's career as an illustrator for Cosmopolitan Magazine and other publications.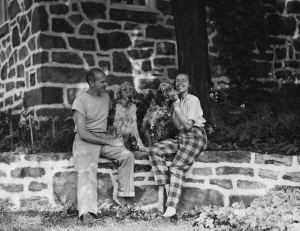 George's work for Cosmopolitan afforded the Evans a comfortable life. Their dream was to move back to the mountains, and they worked to save money and achieve their goal. In 1939, George and Kay were able to purchase a historic farm near Brandonville, West Virginia in Preston County.
They christened it "Old Hemlock Farms", later shortened to Old Hemlock. Repairs and renovations were made to the house, and after service in the Navy during World War II, George and Kay were finally able to settle into their new home. It was here that George developed the famous line of setters that shared the farm's name.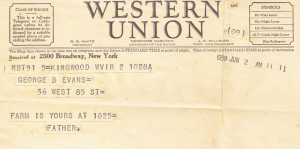 George sought to develop a line of English setters who possessed the beauty of the breed and an excellent hunting instinct. Eventually, these setters became the Old Hemlock line. In the beginning there was Blue and Dawn, who gave birth to Ruff. As George said in his book, The Upland Shooting Life, "It was Ruff who shaped our Old Hemlock line."
He kept a high standard for his breeding program. This assured the setters he bred had the traits that would continue his quest for the ultimate grouse and woodcock dog. After Ruff, there was Dixie, and her daughter Bliss. With those two setters, George and Kay explored new and special coverts hidden in the mountains of West Virginia. His love affair with woodcock began in earnest.
Dixie's son gave them Briar. This built a fire under George to pursue the further development of the Old Hemlock line. Briar was immersed in the wild birds. He showed everything George had wanted in a grouse and woodcock dog, a setter that he often compared to the original Old Hemlock Setter, Ruff.
During this time George began publishing upland books drawing from his journals and years hunting experience in the mountains of West Virginia and Pennsylvania. George wrote 27 upland shooting books based on his shooting journals that started in 1934, and 115 magazine stories and reviews, as well as book introductions and other short pieces. Exciting his readers with descriptions of his hunting experiences and life at Old Hemlock, George had a loyal following that continues to this day.
George gave us a legacy in the Old Hemlock line of English setter that lives and continues to inspire devotion and excitement for the upland shooting life.