Writings
Old Hemlock Foundation and West Virginia University Libraries are pleased to announce the results of a collaboration to make available George Bird Evans's Hunting Journals via the World Wide Web.  To access this collection, go to https://gbe.lib.wvu.edu/


Writing and literature played an enormous role in the lives of George and Kay Evans. After meeting in college, they spent several years in a long-distance relationship writing long and very loving letters on an almost daily basis. Starting in 1932, George began keeping detailed journals that documented his daily hunts. By the end of his life, George had amassed thousands of pages of hunting memories, and used those journals as the basis of his series of books about bird dogs, grouse hunting, and the shooting life.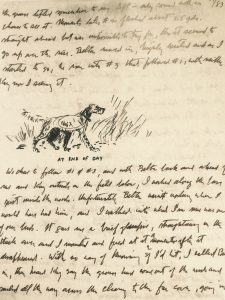 George and Kay finally settled at Old Hemlock after World War II and took up writing full time. They first published a series of mystery novels, whose characters and storylines were clearly influenced by the lifestyle and landscape they enjoyed in West Virginia.
While the mystery novels were published throughout the 1950s, George was consumed with grouse hunting and the cultivation of ideal bird dog. The first litter of Old Hemlock setters had been born in 1947, and in the years following George worked to develop his line. The time he spent training and hunting his dogs provided fodder for many different articles that he and Kay had published in various magazines, including Pennsylvania Game News and Field and Stream.
The popularity of these articles and the accumulation of hunting experience captured in many pages of journals inspired George to start writing books about the Upland Gunning lifestyle he and Kay enjoyed at Old Hemlock. From his first publication in 1971, The Upland Shooting Life, to Grouse & Woodcock in the Blackwater/Canaan released in 1997, George and Kay published books on an almost yearly basis. Topics included tips for selecting and training the best bird dogs, commentary on the population of grouse and woodcock, and stories of his hunting adventures.
George was not alone in his passion for grouse hunting or love for setters, but what made his writing stand out among all others was his profound philosophy and code of ethics about the upland hunting lifestyle. George's books were enjoyed by a wide audience of people across the country, and even in the years since his passing, people continue to appreciate his timeless narratives of grouse hunting and Appalachian life.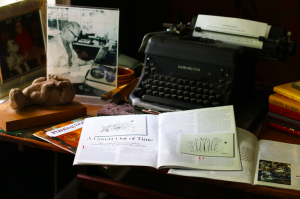 A complete set of George Bird Evans' writing, his hunting journals, some photos and samples of his art are housed in the West Virginia & Regional History Collection: Evans, George Bird. Papers, 1932-2013 on the sixth floor of the West Virginia University's Library.    
George and Kay produced a two volume set of audio cassettes called "An Evening at Old Hemlock."   These have been digitized and now available on cds.   They selected passages from their books to share in their voice.  Following are the selections in print format for you to get a sample of their work.
Evening at Old Hemlock- Vol. I
Evening at Old Hemlock- Vol. II
Interested in ordering one of George's books? Visit our shop page for an order form and more information. Please contact us for more information about his published works.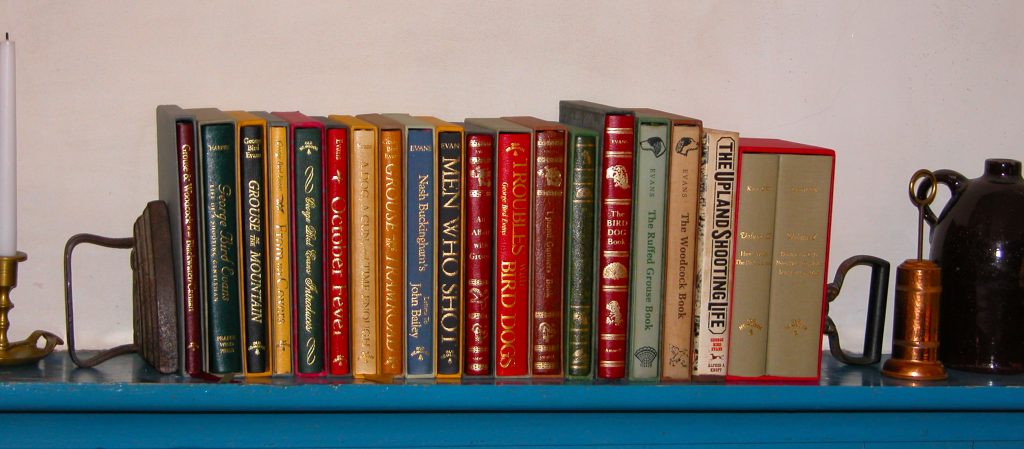 AN ANTHOLOGY OF GBE/OLD HEMLOCK PUBLICATIONS
assembled and chronologically arranged by David L. Hall