Promotional Items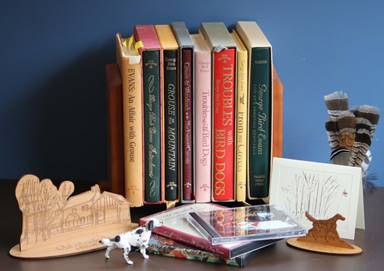 Promotional items change with availability. Please review the pdf link to the promotional items form to find what is currently available.
Click here for a PDF of available promotional items.   
Old Hemlock Travel Mug-
These high-quality RTIC 20 oz. travel mugs are laser etched into t he stainless steel. The graphics are permanent and should never show wear with normal use.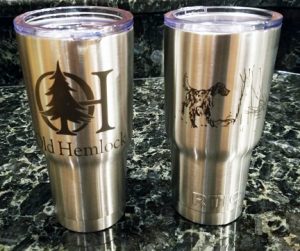 DVD:A Moment with George and Kay Evans-
Chapter one is a tour of the house and its memories narrated on camera by George, then George with Kay reading about Old Hemlock accompanied by selected video and photographs. Chapter two is a video of the West Virginia University Archives Celebration in 2008, including remarks by Cathy Harper and David Hall about their memories of George and Kay.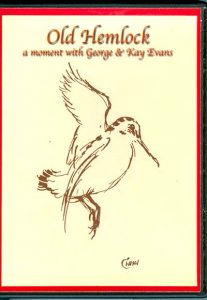 DVD:  George Bird Evans Hunting Videos
A DVD set containing the four original videocassettes of the films George edited from all of Kay's footage, shot early on 8 mm and later Super 8 film: (30 min. each): 1)  Gunning Grouse 1953 to 1962; 2)  Fairhill/Amwell;  3) Dixie and Bliss 1963-68;  4)  Briar and Belton 1969 -81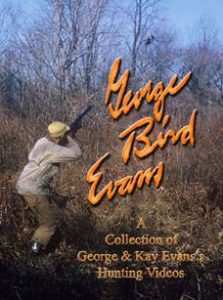 CD: Evening at Old Hemlock
The  recordings of the George Bird and Kay Evans reading selected works have been remastered in digital format and presented in three audio-only CD set of the original two "An Evening at Old Hemlock" cassette tapes from 1989 and 1993.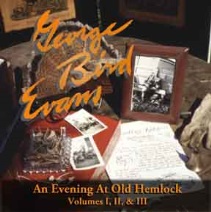 Reproduction of Eight GBE Sketches
These prints were selected by George Bird Evans for display in his studio at Old Hemlock. They are printed with brown ink on cream laid paper. The size of each individual print is 9 inches by 9 inches.  View framed and displayed.